COMIC ROOM HAMBURG
Güntherstr. 94
22087 Hamburg
Mo - Fr:

11.30 - 19.00

Sa:

11.30 - 16.00
Tel.: (040) 25496088

Über den Comic Room
Unsere Emails: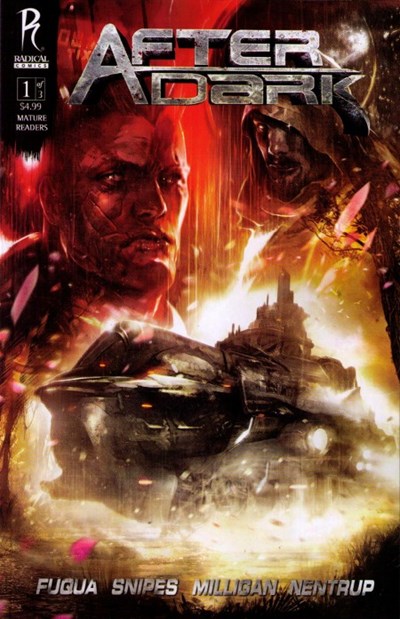 AFTER DARK

#1 bis #3 im Paket (Komplette Serie/Complete Series)!
15,00€
Verlag: RADICAL PUBLISHING
Künstler: Peter Milligan / Jeff Nentrup / Meduzarts
Zeichner: Jeff Nentrup
Coverzeichner: Meduzarts
Erscheinungsdatum: 8/25/2010
Beschreibung:
(Story) Antoine Fuqua, Wesley Snipes (W) Peter Milligan (A) Jeff Nentrup Guided by an amoral drifter, a crew of jaded mercenaries must travel into the dark places of the ruined planet, and the even darker places of their own pasts, on a journey to fine a woman who might just save the world. But maybe the world is past saving. And maybe the people who still inhabit that world aren't worth saving. After Dark is the story of hidden demons and the passion for survival, set in a future that could very well be ours.
After the heart wrenching departure of the infected Jones, the crew is ready to push forward into the darkest parts of Europe on their pilgrimage to find Angel. In between the blood-filled battles and rising tensions, their journey brings them to Birdland, home of creatures unlike anything the crew has ever seen. As the pilgrims fight their way to Angel's haven, in order to convince her to save the world, Colonel Brood has his own mandate regarding the destiny of the human race. The Earth-shattering final issue of director Antoine Fuqua's (Training Day) and Wesley Snipes' (Blade) futuristic Sci-Fi epic! The quest to save the human race ends here! After Colonel Brood's orders are thwarted, the pilgrims must journey back with Angel to help her ascend her role as last hope of the human race. As the crew journeys back, love blossoms for Omar and Anaesthesia - and hopeless despair overtakes others. But when Angel finally takes her place as the paragon of the world, will she use her power to be its savior, or crush all those who oppose her?
X