COMIC ROOM HAMBURG
Güntherstr. 94
22087 Hamburg
Mo - Fr:

11.30 - 19.00

Sa:

11.30 - 16.00
Tel.: (040) 25496088

Über den Comic Room
Unsere Emails:
MERCURY HEAT TP SPECIAL EDITION PAKET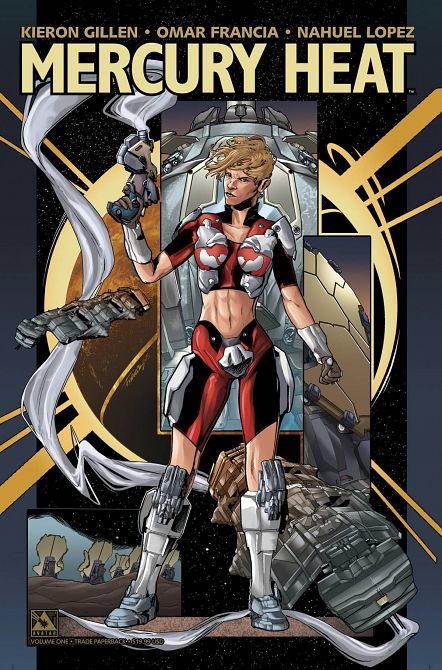 MERCURY HEAT TP SPECIAL EDITION PAKET

US-Paperback Vol. 01-02 im Paket | komplette Serie!
16,00€
Verlag: AVATAR PRESS INC
Künstler: Gillen, Kieron / Francia, Omar / Francia, Omar
Zeichner: Francia, Omar
Coverzeichner: Francia, Omar
Erscheinungsdatum:
Beschreibung:
MERCURY HEAT TP SPECIAL EDITION PAKET
US-Paperback Vol. 01-02 im Paket | komplette Serie!

MERCURY HEAT TP 01:

Kieron Gillen blasts into an all new epic sci-fi series, Mercury Heat! Gillen's work has gained a massive following from titles like Uber, The Wicked and the Divine, and Darth Vader. Now he takes you to Mercury, a slow turning planet where you can outrun the sunrise along with the blistering heat it brings. This is the new frontier of space, where humanity's insatiable need for energy is being fueled by Mercury. It's a tough environment and it attracts a rough crowd. So Luiza is bringing her own heat as a cop on Mercury, since she's just a bit too intense to be one on Earth. Mercury Heat introduces the sci-fi world of the future where individuals are identified by genetic markers and personality types to fill roles in society, the troublemakers seem to end up on Mercury. Luiza wanted to help people, she wanted with all her heart to be a police officer. But the automated Grapevine system had other plans for her. There are only a few legal options for someone branded with her neuroprofile. As an adult Luiza's dream came true - just on Mercury where she enforces laws with extreme prejudice as a bounty agent in a world of hard-as-nails miners and cyborgs. This volume collects issues #1 - 6 of the ongoing Mercury Heat comic book series and the Free Comic Book Day Edition.

MERCURY HEAT TP 02:

Kieron Gillen sci-fi cop drama kicks off the all-new arc with a victorious Luiza settling into her new life on Mercury. Things aren't so bad once you realize how much you enjoy the violence! But nothing can prepare her for the worst infection possible starting to take root. A true nightmare spoken of in hushed whispers, and far more than any one woman can deal with. The Crossed are on Mercury, and the dusty gray ground will soon be stained red. This collection contains Mercury Heat issues #7-12.
X