COMIC ROOM HAMBURG
Güntherstr. 94
22087 Hamburg
Öffnungszeiten im Laden:
Mo.-Di.:

11.30 - 19.00

Mi.:

Geschlossen

Do.-Fr.:

11.30 - 19.00

Sa.:

11.30 - 16.00
Tel.: (040) 25496088

Über den Comic Room
Unsere Emails:
STITCHED TP SPECIAL EDITION PAKET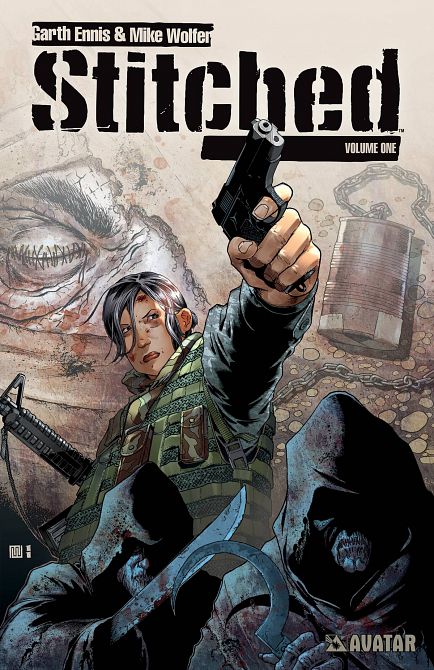 STITCHED TP SPECIAL EDITION PAKET

US-Paperback Vol. 01-03 im Paket | komplette Serie!
25,00€
Verlag: AVATAR PRESS INC
Künstler: Ennis, Garth / Wolfer, Mike / Wolfer, Mike
Zeichner: Wolfer, Mike
Coverzeichner: Wolfer, Mike
Erscheinungsdatum:
Beschreibung:
STITCHED TP SPECIAL EDITION PAKET
US-Paperback Vol. 01-03 im Paket | komplette Serie!

STITCHED TP 01:

Critically acclaimed graphic novelist Garth Ennis and Mike Wolfer unleash an all-new kind of horror as they rip the horrors of war right from today's headlines and thrust it beyond the boundaries of sanity. Three American soldiers, the survivors of a helicopter crash in Afghanistan, struggle across the Taliban-controlled mountains. Injured and lacking food, water, and medicine, they discover something far worse than enemy fighters among the sun-bleached rocks: an ancient supernatural power, murderous and unstoppable. Despite a timely rescue by a handful of British S.A.S. commandos, they're still hopelessly outnumbered by the shambling, ragged undead and the evil human intelligence that controls them.

STITCHED TP 02:

Expanding the world of GARTH ENNIS' Stitched, horror mainstay MIKE WOLFER tells the next chapter in a gripping world of terror. When a smuggler delivers the secret of the Stitched to a wealthy collector, the unsuspecting world learns that true horror doesn't stay buried in the sands of time…it transcends them. A team of Navy Seals must attempt to secure the threat and find a way to destroy the Stitched and their secrets before they are loosed among an unsuspecting population. But the true horror of the Stitched isn't only felt at their crushing granite fingertips, but in the terrifying turning process where the unwary become legions of the dead. The trade collects issues #8-13 of the ongoing horror series, Stitched.

STITCHED TP 03:

Approached by the mysterious Nameless Ones, Nakamura discovers the secret of the Stitched and uses their soulless drive for destruction to rein misery upon his targets within the criminal organization. Violence and terror drive the Kuroko-Kai to bloody revenge and one slip up by Nakamura will put his family and friends in their vicious sights. But the secret of the Stitched comes with a steep price and his family may ultimately be the ones to pay in blood for his ambition and vengeance! MIKE WOLFER and FERNANDO HEINZ weave a story of ancient evil and terrifying horror, Stitched is a modern masterpiece of darkest nightmare.This volume collects Stitched #14-19.
X