COMIC ROOM HAMBURG
Güntherstr. 94
22087 Hamburg
Öffnungszeiten im Laden:
Mo.-Di.:

11.30 - 19.00

Mi.:

Geschlossen

Do.-Fr.:

11.30 - 19.00

Sa.:

11.30 - 16.00
Tel.: (040) 25496088

Über den Comic Room
Unsere Emails: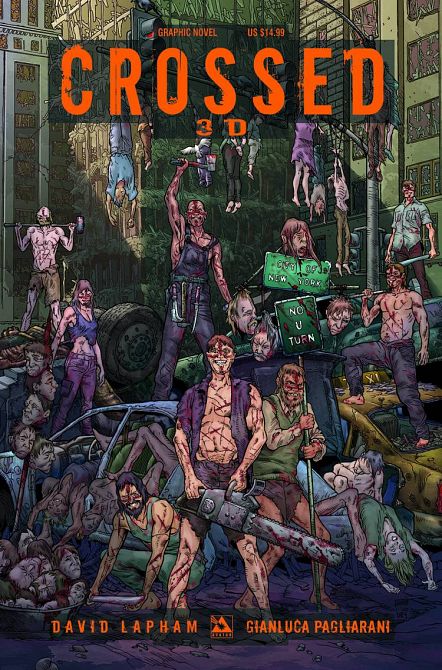 CROSSED 3D HC VOL 01

SPECIAL SALE EDITION
10,00€
Verlag: AVATAR PRESS INC
Künstler: Lapham, David / Pagliarani, Gianluca / Burrows, Jacen
Zeichner: Pagliarani, Gianluca
Coverzeichner: Burrows, Jacen
Erscheinungsdatum: 21.03.2019
Beschreibung:
CROSSED 3D HC VOL 01

SPECIAL SALE EDITION

Crossed bursts into a whole new dimension of horror with this original full-color graphic novel in 3D! Some horrors have to be seen to be believed, and writer David Lapham delivers a shocking tale of Crossed in New York City! Every panel explodes off the page with hyper-detailed art by Gianluca (Ignition City, Wolfskin) Pagliarani and colors by Digikore. When one of the last surviving human Doctors gets trapped in a New York skyscraper, S.W.A.T. veteran Lt. Hunt MacAvoy must assemble and arm a rag-tag group of handymen to go on a rescue mission of madness - right into a city of millions of Crossed! Created with state-of-the-art 3D effects over full color art, this graphic novel promises to shock and disturb you in a way you've never seen before! Every copy ships with a removable pair of 3D glasses bound into the spine. This special Hardcover edition features a new cover image by Jacen Burrows, that is limited to only 5,000 copies.
X