COMIC ROOM HAMBURG
Güntherstr. 94
22087 Hamburg
Öffnungszeiten im Laden:
Mo.-Di.:

11.30 - 19.00

Mi.:

Geschlossen

Do.-Fr.:

11.30 - 19.00

Sa.:

11.30 - 16.00
Tel.: (040) 25496088

Über den Comic Room
Unsere Emails:
BATMAN BLACK AND WHITE #2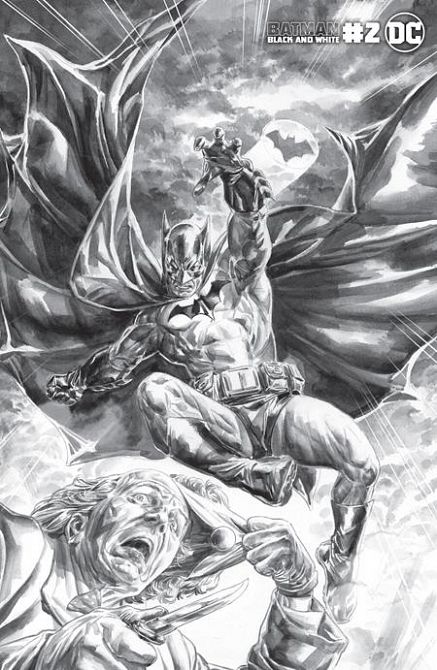 BATMAN BLACK AND WHITE #2

CVR B DOUG BRAITHWAITE VARIANT
6,60€
Verlag: DC COMICS
Künstler: Various / Various / Doug Braithwaite
Zeichner: Various
Coverzeichner: Doug Braithwaite
Erscheinungsdatum: 29.01.2021
Beschreibung:
The all-new anthology series continues with new tales of mystery, mayhem and madness from all levels of Gotham City by some of the finest talents in comics. In this auspicious issue: • Eisner Award-winning collaborators Tom King and Mitch Gerads (Mister Miracle, Strange Adventures) tell a tale of Batman administering a form of last rites to a dying priest. Or is it the other way around? • Eisner-nominated storytellers Gabriel Hardman and Corinna Bechko (Green Lantern: Earth One) find the Dark Knight facing certain death—with The Joker his last lifeline. • Multiple award-winner for his innovative work on Hawkeye, David Aja writes and draws his first DC story, in which Batman is set on the trail of a deadly cult preying on Gotham City—and it's one you'll be talking about all year! • The brilliant Sophie Campbell (Jem and the Holograms, Teenage Mutant Ninja Turtles, Wet Moon) returns to DC after a 10-year absence to follow Batman and Catwoman on one of their greatest chases ever. • Celebrated artist of S.H.I.E.L.D. and Avengers and the creator of Paklis, Dustin Weaver makes his DC debut as Batman takes to the sky in a stunning aerial battle against one of the most unsettling foes he's ever faced.
X