COMIC ROOM HAMBURG
Güntherstr. 94
22087 Hamburg
Mo - Fr:

11.30 - 19.00

Sa:

11.30 - 16.00
Tel.: (040) 25496088

Über den Comic Room
Unsere Emails: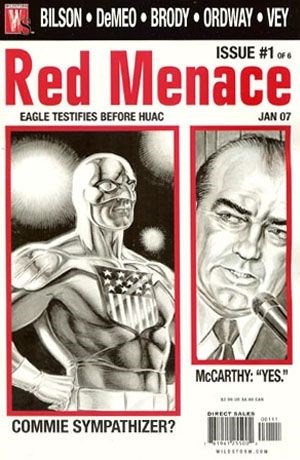 RED MENACE

#1-6 im Paket! | komplette Mini-Serie! | alles REG CVR
18,00€
Verlag: DC COMICS / WILDSTORM
Erscheinungsdatum:
Beschreibung:
RED MENACE (2007)
#1-6 im Paket! | komplette Mini-Serie! | alles REG CVR

Written by Danny Bilson, Paul DiMeo & Adam Brody

Art by Jerry Ordway & Al Vey
Cover by Jerry Ordway
Writers Danny Bilson & Paul DeMeo (THE FLASH: FASTEST MAN ALIVE) and comics-newcomer Adam Brody (star of The O.C.) - with art by fan-favorite Jerry Ordway (TOP 10: BEYOND THE FARTHEST PRECINCT, JSA) & inker Al Vey - present what's sure to be the most talked-about miniseries of the fall.

RED MENACE is a story of heroes and the corrupt leaders they must take a stand against!

Los Angeles, 1953: Home to bent cops, smooth criminals, and curvaceous starlets; where the glamour and wealth of Hollywood and Beverly Hills collide with the crime and grit of Chinatown. Amidst this startling contrast, American ideals are under siege by Joseph McCarthy and the H.U.A.C. trials, rooting out communist threats where ever they may lie - even in the ranks of the super heroic! Can there be any doubt about the loyalties of L.A.'s greatest and most patriotic hero, the Eagle? America is about to find out the hard way!
X